Scout by Kelly Wearstler - MADE by ANN SACKS
Scout by Kelly Wearstler pushes boundaries with singularly ornamental linear, geometric and curvaceous shapes in variance of scale that bring an extraordinary dimensional texture to a space. Inspired by modern ceramicists, the ceramic collection embraces Kelly Wearstler's curation of the freehand-crafted, artisanal material. Gravitating to the eye and hand, this exquisitely refined range of custom glazed and distinctly spirited patterns connects in compelling symmetries, as a defining border or an engaging matrix that resonates with surprise.
---
Kelly Wearstler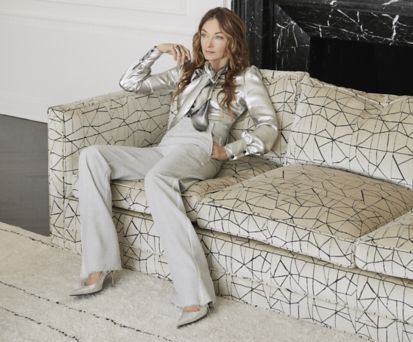 "My aesthetic is about mixology - the juxtaposition of contemporary and classic, masculine and feminine, raw and refined."
---
Overview
Collection starting at $64.95/SF
*Prices as noted are subject to change without notice. Please contact your nearest ANN SACKS Showroom or distributor for current pricing. These prices do not include shipping or applicable sales tax.

Non-Stock
SKU: AS20302KWSC
Recommended Use & Requirements
All Uses
Suitable for all indoor wall applications
Not suitable for floor applications
Suitable for outdoor vertical use dependent upon climate and method of installation
Opaque and translucent colors are suitable for shower walls Metallic glazes are suitable for indoor wall applications; not suitable for wet areas
Crackle glazes should not be used in wet applications or behind ranges as moisture may penetrate the glaze and cause spotting or discoloration issue
Metallic glazes may develop a patina over time if exposed to acids
Metallic glazes are susceptible to staining, please use caution when installing in areas that come into contact with grease