Mod Moda by Martyn Lawrence Bullard
Inspired by mid-century modern design elements, the new Mod Moda collection by Martyn Lawrence Bullard takes terrazzo to new proportions. Using time-honored techniques, the geometric patterned tiles are comprised of various sized flakes, grains and chips of precious marbles skillfully blended with cement. Ideal for grand flooring installations, the collection is available in field and mosaic formats and is versatile in creating unique statement spaces.
---
Field Tiles
Mod Moda Kaufman

Sizes

Kaufman: Octagon + Square (15.984" x 22.563" x 0.472") *1 octagon + 1 square are sold together. The octagon measures 15.984" x 15.984". The square measures 6.579" x 6.579"

Mod Moda Singleton

Sizes

Singleton: Half Hexagon (5.984" x 13.976" x 0.472")
Martyn Lawrence Bullard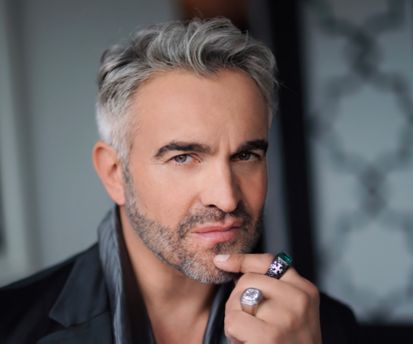 "Tiles have been a decorative staple for centuries, exampled on a global scale by gracing the exteriors and interiors of some of the most important buildings in history but yet so attainable - lending its creative edge to the residences of today. My collections reflect that history and embrace the future of design."
---
Overview
Collection starting at $34.95/SF
*Prices as noted are subject to change without notice. Please contact your nearest ANN SACKS Showroom or distributor for current pricing. These prices do not include shipping or applicable sales tax.

In Stock
SKU: AS20443
Eco-Thinking
Recommended Use & Requirements
All Uses
shower wall

residential floor

wall
Suitable for all wall and flooring applications
Suitable for installation on shower walls
Suitable for high-temperature areas such as behind ranges and fireplace surrounds
Outdoor use subject to climate and method of installation
Please see Ann Sacks slip-resistance and wet flooring application statement to determine usage in a wet area